We have list of best visual effects vfx software for our readers in this post. You can pick your favorite animation and vfx tools/software of the year and leave a comment below. Some of you may be looking for free VFX software. Yes there are some free VFX tools for movies and videos also available but these are not so much popular.
What is (Visual Effects) VFX software and Why it is so Interesting
Visual effects are mainly used in film making. visual effects (abbreviated VFX) are the processes by which images and videos manipulated outside the context of a live action. You may have seen so many films where VFX (visual effects) editing is used. For example Avatar, 300, X-Men and many more. I would also like to add one more movie in this list is Baahubali. There are so many wow VFX effects in this film. here is the list of visual effects tools.
Also Find List of Best Free Video Editing Software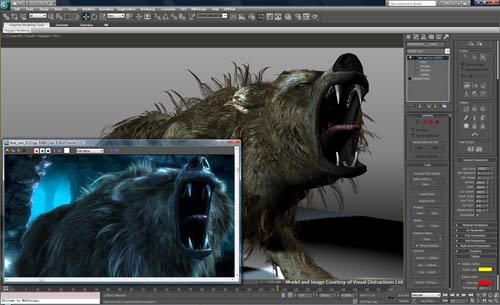 3ds Max (3D Studio Max) – 3ds Max is used in many of the top Hollywood film productions, videogames and TV commercials. 3ds Max software is popular for 3D modeling, animation, rendering, and compositing solution for games, film animation effects, and motion graphics. 3ds Max has good features for crowd generation, particle animation, and perspective matching. This too features MAXScript, Character Studio, Scene Explorer, DWG import, Texture assignment/editing, General keyframing, Constrained animation, Skinning, Skeletons and inverse kinematics, Integrated Cloth solver, Integration with Autodesk Vault and Max Creation Graph. Films like Avatar and 2012 used 3ds Max for visual effects.
Adobe Creative Suite – Adobe creative suite is software bundle of graphic design, video editing, and web development applications developed by Adobe Systems. This pack contains Photoshop, Acrobat, Premiere Pro or After Effects, InDesign, and Illustrator. There are different suites for different needs.
Blender – Blender is an amazing VFX software. It is free and open-source 3D computer graphics software toolset which is most important thing. It is used for creating animated movies, visual effects (VFX), creative art, 3D printed models, interactive 3D applications and video games. You can start your creative work with Blender software with 3D modeling, exturing, raster graphics editing, rigging, UV unwrapping and many more.
Maya – Maya software is also known as Autodesk Maya. It is a 3D computer graphics software that runs on Windows, mac operating systems and Linux. Maya is used in many films such as The Chronicles of Narnia: The Lion, the Witch and the Wardrobe, Harry Potter and the Deathly Hallows: Part 2, Little Krishna and Halo 4 etc. Maya is available in 3 language versions, English, Chinese and Japanese.
Flame – Flame VFX software is also developed by Autodesk Media and Entertainment. Flame is used for 3D compositing (Action), Node-based compositing, Editorial timeline etc. This software has 4 products Flame, Flame Assist, Flare and Lustre. Flame is used in films like Alice in Wonderland, The Curious Case of Benjamin Button, Harry Potter and the Deathly Hallows Part 1, Inception, Iron Man 2, King Kong, Gladiator, Titanic, Life of Pi, Hugo, The Adventures of Tintin: The Secret of the Unicorn and other films.
Nuke – NUKE is also one of the node-based digital compositing application developed by The Foundry. It is used in many films and television creatives.
MotionBuilder – MotionBuilder is a another product of Autodesk. It is a professional 3D character animation software. This tool is used for Realtime display and animation, Facial and skeletal animation, 3D non-linear editing system and other VFX effects.
ZBrush – ZBrush is a digital sculpting software used for visual effects. This tool combines 3D texturing and painting. This tool has features like 3D Brushes, Polypaint, Illustration, Transpose, ZSpheres, GoZ and Fibermesh etc.
V-Ray – V-Ray is a rendering plug-in for 3D computer graphics software applications. This tool is developed by Chaos Group. It is kind of plugin used by top VFX software.
Blackmagic Fusion – Blackmagic Fusion is earlier known as eyeon Fusion. This software is typically used to create visual effects and digital compositing for movies, TV-series and commercials. Fusion has been used in many movies and TV shows this list is too long. Here are few of them. Spider-Man 3, I, Robot, Hellboy 2, Harry Potter and the Order of the Phoenix, Ghost Rider, Happy Feet, Final Destination III, 2012 etc.