There are a hundred different digital marketing tricks, numerous ways to market a product and popularize a brand, various methods to generate traffic and increase a websites income, but every method, trick and way boils down to one common factor: Good Content.
Why Is Content a Big Deal?
Yes, you might be an SEO expert or a Facebook marketer, A Twitter maestro or a champion Blogger, but they are all platforms and techniques that have to be incorporated into content. You now see the importance of quality content? The ultimate answer to making any product or brand successful online is finding the perfect content writer.
Now the question arises, 'how does one find the right content writer?' You might be a talented writer yourself but writing every single article on your website yourself can turn out to be a tedious task. The best option is going to a platform that hosts writers and selecting someone who thinks in the same frequency as you and works for a price you are willing to pay. One such brilliant platform, and one that is swiftly becoming India's number one platform is Contentmart.
Contentmart is a portal that serves as the meeting ground for any company or individual looking for quality content and writers looking to provide freelance writing services.

Why is Contentmart the Best Place For Content Hunters?
As a business or Blog owner, you want to make sure only the best content goes up on your website. The content must portray what you have in mind and speak to the reader eloquently. Contentmart works on a 'Bidding' process, allowing you to create an order and describe what exactly you're looking for and the amount you're willing to pay. Based on your order, writers make bids by describing the service they can provide.

This is the first step in finding the perfect writer. You can judge a writers merit by reading the description entered in the order or by checking the writer's portfolio which contains their work. You don't need to pick a writer until you find the perfect match. You can have a one-on-one conversation through Contentmart's inbuilt chat platform and get to know the writer before you select them.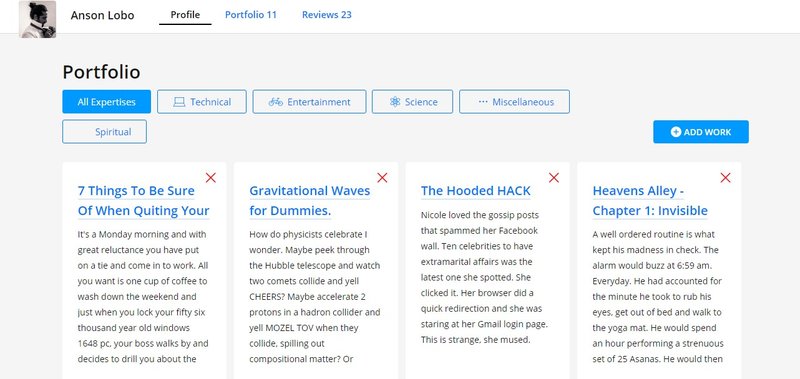 Even after you have selected the writer, you have control over the direction of the content. You ask for samples over the chat window and instruct for changes. After the content is submitted, you have the power to reject and ask for changes or go with a new writer altogether, for no additional charge.
Contentmart has stitched together these options so you can make sure you're picking the perfect writer for your content needs, and getting the desired results.
On the other side of the spectrum are the freelance writers. The toughest part of working as a freelancer is finding trustworthy clients who provide work that you find challenging and fulfilling. Contentmart's 'Offer and Bid' system is built to help writers as well. Writers can read the job description before offering their services, so they know what the client requires. Writers can then make bids only if they are interested in writing about the topic.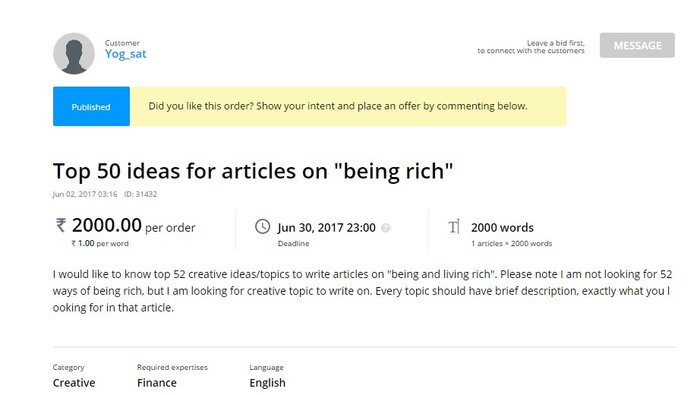 Contentmart also secures writers against fraudulent people by working on a prepaid payment basis. Clients offering jobs have to send in a prepaid amount and this ensures writers don't get cheated or duped after submitting content.
One feature Contentmart has that puts it ahead of all other competing platforms is that it does not charge writers money or virtual points/tokens to make bids. This gives writers a lot of freedom to bid for as many topics as they want giving them a great chance of earning.
The Verdict
Contentmart is surely a great platform for people looking to get quality content and for writers looking for freelance work. The entire platform maintains a transparent structure so clients and writers know from day one what the work exactly is, what is required and what is being offered by both parties. This creates a healthy interaction between writers and clients making the entire experience a joyful one. I highly recommend Contentmart to all content seekers and freelance writers.