Looking for Google Adsense Alternatives for regular earnings? Here is list of best sources to monetise websites and blogs. Google Adsene is leader and best paying publisher advertisement network of Google. Right now google Adsense is No.1 and no ad network can compete with it. If you are a publisher or webmaster and looking for ad networks or affiliate network to monetise your website or blog. Here is the list of best best paying ad networks.
Many of you might looking for alternatives of Google Adsense because.
1. Your Adsense account may be blocked by Google.
2. You are looking for additional earnings.
3. You hate Adsense for it's long list of guidelines and policies.
Find a list of best paying Google Adsense alternatives and Ad Networks to monetise your website and blog and make money online.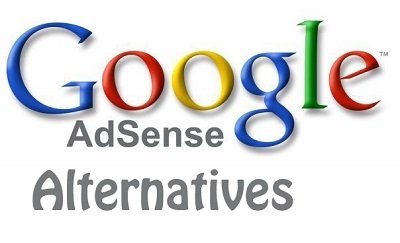 Google Adsense Alternatives – Earning Sources for Bloggers and Publishers
Media.net – Media.net is ad network of Yahoo and Bing's contextual ads. It is one of the best alternative of adsense for publishers as it is just similar to adsense. It provides contextual and relevant ads just like Google's Adsense.
Tribal Fusion – Tribal Fusion is not an alternative to all publishers. This is good for big publishers which have more than 5,00,000 unique visitors per month. This network work on a CPM basis. It is really competitive and high paying network. This alternative is even better than others if you are a big publisher. It pays more than Adsense of Google in few cases.
Infolinks – Infolinks is one good alternative contextual advertising network. Its ad products including InFrame, InSearch, InTag and InText, were designed to overcome banner advertisements. It works on PPC (Pay Per Click) model. After approval your account in Infolinks you will get javascript code which you need to put in your website/blog pages. Its advertisement products automatically detect some specific words and create hyperlinks to advertiser's webpage.
Chitika – Chitika another alternative of Adsense is one of the best in terms of size of network and revenue. It has very cool feature "Click Prediction". This ad network can easily calculate predictive earnings for publishes. It will let you know which ads will generate more revenue for you.
Clicksor – Clicksor is an online contextual ad network based in North York, Ontario. Clicksor's payout term is Net 15. You can also select payment mode as cheque or Paypal. You can withdraw money when your account reaches to 50$ or more.
Other Advertisement Network and Google Adsense Alternatives
Propeller Ads Media – Propeller Ads Media is good alternative with many ad formats in its advertisement inventory. It provides different standard size banner ads, popups, pop-under, video ads etc.
Kontera – Kontera is ad network product of amobee. It provides advanced cross channel digital marketing technology platform for marketers, agencies, publishers and operators.
Vibrant Media – Vibrant Media is a creative adsense alternative. It provides different ad formats such as Lightbox, Mosaic, Brand Canvas, Storyboard, in text and banner ads.
Link Worth – LinkWorth is one of the largest and most innovative ad network for both Advertisers and Partners. It has many types of advertisement products and services to fill your need.
Qadabra – Qadabra is a self-serve advertisement network for site owners and publishers. It works through performance-based advertising.
Intellilinks, Reachli, Bidvertiser,  Adversal, Revenue Hits, B4PSAds, Skimlinks, VigLink and Dynamic Oxygen
Please share your reviews and feedback on these advertisement networks. Do you like this list of Google Adsense's Alternatives? Subscribe for our blog updates and stay updated.