SEO trends are always a well known topic for SEOs. It creates a kind of hype among marketers who need to be constantly looking for popular inbound marketing trends. There is always something new each in search industry. Search engines and marketers love experimenting new things. First of all client always want to adopt new and latest things.
Here are 7 SEO Trends for SEOs and marketers
Best User Experience
Best user experience is the key of digital marketing success. Your website and mobiles apps should give better user experience than your competitor's. Companies should give thanks to latest web technologies. Thanks to the "lighter" HTML, CSS and JavaScript developers use. You should think like a pro while planning of landing pages. All on page SEO elements should align with business objective of the web page. These on page SEO elements are as follows. But we should also focus on Off Page SEO because it is very important for ranking and traffic.
Page Title
Page Headings
High Quality and Relevant Images
Infogrphics
Videos
Context and Content
Link to relevant resources etc.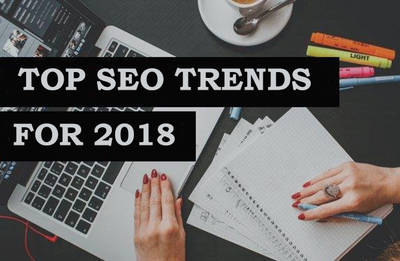 Artificial Intelligence
Artificial intelligence (AI) is apparently intelligent thinking of machines. Artificial intelligence technology is achieved by studying human brain. It studied how human brain thinks, learn, decide, and work while trying to solve a problem. We are going towards machine learning in future. AI chat bots are trending in website's user experience.
Voice Search
Google has introduced voice search few years back. Voice Search is a Google product that allows users to Search by speaking on a mobile phone or computer. So now this search world growing from human entered keywords to rewriting search queries to voice inputs. So be future ready for your Voice Search SEO. Voice search is gaining its position in top SEO trends worldwide.
AMP Pages
Accelerated Mobile pages is the project design and developed by Google and twitter to provide faster mobile experience for users. This feature is emerging a big change in mobile browsing. Mobile/tablets are going to be primary search device for users worldwide by 2021. So your website should AMP ready.
Site Speed
Faster is better, It is the new key of SEO success. If you want to be always on top by providing better and faster page load on your website. So it is good for your website SEO as well as regular or new users of your website.
Rich Snippets
CTR is the advanced key of SEO success. If your webpage CTR is higher than competitors on SERPs (Search engine result pages), Your website will always have higher rank.  As a Result rich snippets help in getting higher CTR from SERPs. Your webpage should have rich snippet and micro data elements.
SSL Certificates
Trusted sites with SSL certificates are going to be lead the SERPs by 2025. Your website should provide safe browsing for your users. It will increase trust among your website users and search engines as well.  Sot his is one of the advanced SEO trends and in the list of SEO best practices checklist.